Ljubljana, 04.13.2012 | author:
Uroš Okoren
|
@hsoru
In the last few days we are witnessing Dragic-sanity in Slovenia. Media and fans are competing in expressing bigger and better compliments about Goran Dragic and his excellent performances in the NBA (he was named the player of the week in the Western Conference).
A month ago similar thing happened to the New York Knicks player Jeremy Lin. After he got an opportunity to play some serious minutes and decided couple of games, he became a global star practically overnight. 
The story of Lin and Dragic is quite similar yet the result is very different. As soon as Lin played couple of good games, he instantly became a marketing priority #1 for the whole NBA, while Dragic, at least internationally speaking, is just another interesting story.
Why? To put it bluntly – Jeremy Lin is Asian. And Asian market is of great importance for the NBA. How strong the marketing engine of the NBA is, was evident in the promotion surrounding Lin's performances. Every day he appeared in headlines of all major media, market was immediately flooded by the series of his merchandize, he began to endorsement deals and he even got the chance to participate on the All-Star weekend in Orlando. All that with a clear objective – to increase the popularity of the NBA in Asia. The overall plan was slightly blocked by his injury, but the Lin-effect will last at least until the beginning of the next season.
One another important factor in this whole story are of course the New York Knicks. Before the season, many have seen them right on top among the best teams of the league, where they haven't been since the days of Patrick Ewing. But it seemed that this was going to be another season to forget. At least until the Linsanity began. And the rest is history …
And where in all this is Dragic? His on-court numbers are higher than Lin's. His team is winning and competing for the playoffs. He also plays for a great team with tradition, although on a much smaller market, to be honest.
But …
Dragic is 'only' from small Slovenia. The story itself is probably very interesting from the point of view of fans, but from the NBA marketing aspect he unfortunately is not (yet) a major factor. If he continues to play on such high level in the next season he could of course become more interesting from marketing perspective as well.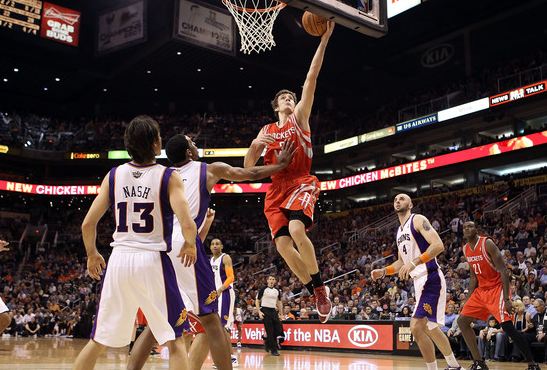 From Slovenian perspective Dragic is already an athlete with one of the highest market value in Slovenia. He has everything an athlete needs for successful endorsements: credibility on the court and attraction in his personal life.
Of course, the size of Slovenia doesn't mean that no one from our country can become a truly global sports icon. It just means that the whole process is more difficult than it was with Jeremy Lin.
A lot of athletes from smaller markets are facing this problem. Beside the fact that usually this means that the sports results have to be even better and more consistent, crucial role here is carefully planned and executed sponsorship strategy. With this in mind even an athlete from Slovenia could one day join the company of top earning world athletes.
The biggest short-term benefits from Gogi-mania will have Slovenian basketball federation and its sponsors and the organizers of the Basketball European Championship which will be held next year in Slovenia. And of course first companies which will use Goran as their endorser.